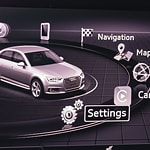 As a luxury sedan, what can the Audi A4 offer in terms of performance? Thankfully, Audi has made this vehicle just a capable as it is luxurious. You can expect 273 pound-feet of torque and 261 horsepower from the Audi A4, which is quite impressive for a luxury-oriented sedan.
Iowa City, IA Audi A4 buyers will also appreciate the Quattro AWD system that this Audi sedan comes with. It provides enhanced grip, efficiency, and driving dynamics to local Audi drivers who need these from their vehicles. Additionally, Audi Drive Select allows you to switch from dynamic mode to comfort mode, and it will adjust the steering, transmission control, and engine accordingly.
Audi Iowa City also expects the Audi A4's available sport suspension to be quite a popular performance feature among local Audi drivers. Its ride height is 23 mm lower than the normal suspension, which offers firmer tuning and a more pleasant driving feel.