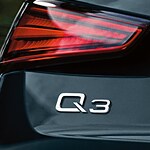 If you're considering a crossover as your next family or work vehicle, the Audi Q3 should be on your shortlist of must-see vehicles. The latest versions of the popular Audi Q3 have arrived here at Audi Iowa City in Iowa City, IA, and our team is ready with answers to all your questions on what sets this model apart from the competition.
When you choose an Audi Q3, you don't have to worry about upgrading to all-wheel drive because it's already a standard feature across the line-up. You'll also be prepared for safe travels in a wide range of conditions thanks to a drive mode system that offers five different control and handling options.
The Audi Q3 is capable of generating almost 230 horsepower and more than 250 pound-feet of torque, so you'll also be able to count on having the power that you need to tackle almost any road.