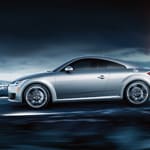 The Audi TT Coupe delivers the kind of performance that other luxury coupes wish that they could have. So, what gives the Audi TT Coupe its performance edge? Here's a look at two performance features that make the Audi TT Coupe a one-of-a-kind performance coupe.
The Audi TT Coupe comes standard with an S tronic® dual-clutch automatic transmission. This unique transmission system gives you quick shift times and makes every acceleration of the Audi TT Coupe more exciting than ever.
When it comes to control, the Audi TT Coupe comes through with its standard with a permanent quattro® all-wheel-drive system. Now you can enjoy top luxury performance in all weather conditions. That's because this all-wheel-drive system fine-tunes the torque distribution to give you superior grip on the road. Overall, the Audi TT Coupe is a vehicle that has the speed and the control to outshine the competition.