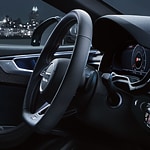 With a turbocharged V-6 engine putting out plenty of torque, you should already know that the Audi S5 Sportback is a lot of fun to drive. It grips corners like you would not believe. Much of this is due to the design.
The Audi S5 Sportback is so innovative because of its ergonomic design. Just look at the low roofline and you will know what we are talking about. However, you still get plenty of interior space so do not worry. At the same time, the look of this vehicle is spectacular and will make you the envy of the neighborhood.
The back is sloped to the point that the trunk is larger than pretty much any other type of vehicle you will find in this class. Tests indicate that you can easily stow away six carry-on bags even when the rear seats are occupied.