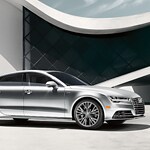 The 2020 Audi A7 is more than a luxury-based sedan. This automobile has a sleek exterior that appears to be cut from fine glass. The interior of this machine is precisely crafted with some of the most luxurious materials. The sedan's turbocharged V6 will generate as much as 335 horsepower and 369 pound-feet of torque.
Consumers will have access to some of the latest in tech advancements while riding in this machine. The 2020 Audi A7 hosts a virtual cockpit that's futuristic in appearance. All of the technologies work wonderfully thanks to being blended with MMI innovation. There are upper and lower display screens that will give off a high-resolution image. All you have to do is touch the screen to access the features. The new A7 also offers a premium sound system as well as a 12.3-inch driver display.
Our associates are willing and ready to provide a free test drive, so swing by and see us today.