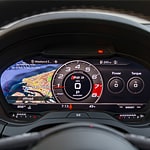 If you're seeking an automobile that combines the perfect blend of performance and luxury, then keep reading. The Audi RS 3 is its name, and dominating the highway is the game. This luxury-sport sedan is quite popular among people of diverse ages. Consumers can expect all of the bells and whistles that Audi is known to offer, but there's more.
The Audi RS 3 conquers the highway with a TFSI turbocharged engine. This 2.5-liter engine provides instant power from a standstill. Over 394 ponies are crammed underneath the hood, and these ponies can blast the Audi RS 3 from zero to 60 mph in about 3.9 seconds. Of course, consumers can expect to get as much as 354 pound-feet of torque. The available fixed suspension greatly enhances the sedan's agility. Crisp steering can also be expected.
View the Audi RS 3 in our showroom to get a better understanding of how well-crafted this automobile truly is.