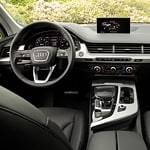 To get thoroughly plugged into a digital automotive future, smart Iowa City, IA drivers are hopping on the Audi Q7 bandwagon. This elite production epitomizes technological mastery to cultivate a new era of contemporary roadside bliss. Ultimately, this illustrious ride has become a decadent staple of Audi Iowa City's showroom.
Wildly innovative gadgetry paves the way for an astonishingly futuristic experience in the Audi Q7 cockpit. For starters, the crystalline 12.3" instrument cluster enshrines brilliant 3D rendering alongside a comprehensive integration of Google Earth. Precise mapping is guaranteed with this next-level software on deck.
The 10.1-inch Audi MMI touch-response system grants total control over your entire mobile universe with swift connectivity and advanced voice commands. Music settings can be effortlessly adjusted on the go, and you will have immediate access to pertinent information regarding local traffic conditions. With MMI Navigation Plus, you will always reach your destination as planned.